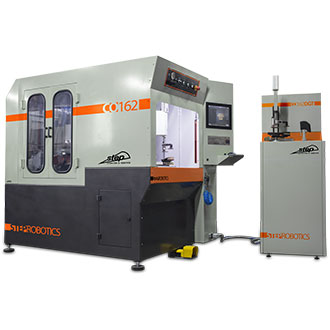 AUTOMATIC CONTOURING MACHINE FOR SHOE BOTTOMS  
---


PROFILE ACQUISITION DEVICE

SIMULTANEOUS EXECUTION OF THE PAIR
TECHNICAL FEATURES TO SUPPORT OF INDUSTRY 4.0 
Smart and touchscreen HMI

CNC control system

Remote maintenance and remote diagnosis

Remote maintenance and remote diagnosis

Automated integration with the system logistics factory

Machine status monitoring sensors

Compliance with the latest safety standards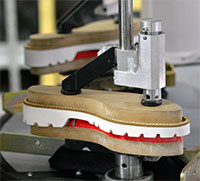 CO162 is an automatic contouring machine for shoe bottoms. Born from the development of the previous CO981, it has been reconfigured in a perspective of greater versatility and productive efficiency, while keeping a high quality processing standard.
CO162 can sand-paper, brush or mill the different types of shoe bottoms with excellent results and productivity up to 300 pairs per hour.
The acquisition system allows detecting any type of profile with variable inclines throughout the contour.
The completely renewed software allows programming complex processes with great easiness and efficiency.
The significant integrations made on the equipment allow using 2 different tools on the same profile, making of CO162 an extremely versatile machine for any type of shoe bottoms.
TYPES OF PROCESSED BOTTOMS
Soles in single block TR/PVC

Soles in PU

Soles in EVA

Assembled leather soles

Single blocks in cork, wood, etc.

Units in micro, rubber, etc.

Rubber soles
PROCESS TYPES
Sand-paper

Creping

Brushing

Milling
To see the video of machine at work
For further information and to get the product technical data