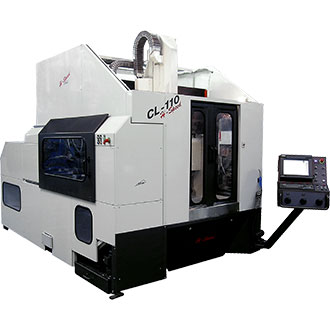 Mixed structure in ingho-pressurized steel (thermal/structural stabilization process that provides the structure with features similar to granite, resonance dampening and low thermal expansion.
The fixed-portal manufacturing concept allows for an extremely balanced distribution of the moving masses on the 3 Cartesian axes, an indispensable condition to attain very high level dynamic and accuracy performance, as highlighted in the processing of complex surfaces and in the manufacturing of general mechanical parts.
Spindle nose automatic cleaning function.
Volumetric pressurization of all the provided direct measurement devices.
Volumetric pressurization of the axes.
Tool store integrated to the machinery frame, separated and protected from the process area, available in the Random or Pick-up versions.
Water-cooled electrical spindle available in 4 versions: 10,000 – -18,000 – -26,000 – -40,000 rpm for ISO-40, HSK-E32, HSK-E40 and HSK-A63 (E63) tools.
The easy access to the process area from both the front gate and the wide side opening – as well as the table surface at 90 cm from the floor level – facilitate all the operations on board the machinery.
The handy turning ergonomic control panel allows for easy use of the controls from both the front and side gates.
Process area purposely designed to facilitate its cleaning: it does not feature any steps or protrusions, which usually generate a troublesome deposit of chips.
The minimal centralized air/oil lubrication with recovery tank or by grease significantly reduces the presence of oil in the lubrication and cooling circuits.
Pallet storage integrated to the machinery frame – extremely handy and of reduced packaging dimensions – to increase the productivity and the process autonomy.
Pallet retrieval device integrated to the head unit.
The type of frame used and the flexibility of our company allow – if required – customizing the machinery to Client's specific requests.
To see the video of machine at work
For further information and to get the product technical data